How do I ask for help when Internet Explorer crashes?
First, you need to gather information about the Internet Explorer crash. Then, you have to find where to go for help
Obtaining information about Internet Explorer crashes
The Internet Explorer Error Reporting Tool
By clicking on the provided link in the error reporting tool window, you can access details of the error message AND you will be given the opportunity to send a report to Microsoft.

Some people prefer to disable the tool. Instructions for the various operating systems can be found at the link below:

Description and Availability of Internet Explorer Error Reporting Tool
http://support.microsoft.com/support/kb/articles/Q276/5/50.ASP

When the Error Reporting Tool triggers, it is possible to view the data that the error report contains. This data is ESSENTIAL INFORMATION and must be provided when asking for assistance in the newsgroups.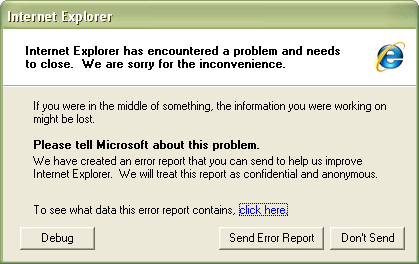 Click on the click here link in the error window. The data we need (application name and module name) will appear. In the example below the important information is AppName iexplore.exe and ModName mshtml.dll


**NOTE** Sometimes there is no option to send a report to Microsoft. If this is the case for you, please check the URL below:

"Microsoft Internet Explorer has encountered a problem and needs to close. We are sorry for the inconvenience."
Microsoft hosts various newsgroups devoted to supporting users of their products. You will find more information about newsgroups, and how to use them, at this link.